New Employment Programs: Off the Leash and Prism
Wednesday, April 6, 2022
Barking Up the Right Tree
Last fall, YWCA Metro Vancouver launched an exciting new employment program that prepares job seekers aged 15-30 for entry-level careers in the pet and animal care industry.  
YWCA Off the Leash is funded by the Government of Canada's Youth Employment and Skills Strategy. The program consists of four weeks of skills training workshops followed by 10 weeks of professional work experience. During training, participants receive in-demand professional certifications relevant for their future careers.  
"Many clients enter our program with uncertainty about their future," says program manager Kimberly Way. "They have a genuine love of animals and know they want to work in pet care but believe they lack the connections, experience and skill set to get their foot in the door. For me, the best thing about this program is getting to witness participants turn these challenges into opportunities," she adds. 
Several program graduates have already secured employment in the pet care industry, such as Lisa Yang, who was recently hired to work at a local veterinary clinic.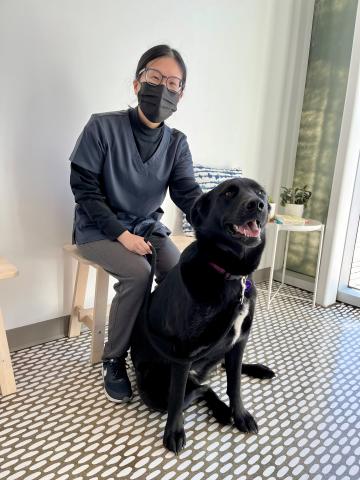 "I had just finished university when I saw an ad about the YWCA Off the Leash program. As an animal lover, I was really intrigued, but I had no experience working with animals besides having a little hamster. The timing was perfect as I wasn't sure of what to do in terms of a career," says Lisa. "The program gave me a sense of confidence in a field where I had no experience. Besides work support, the program also provided an environment of safety, kindness and fun. It was also really nice being able to meet other animal lovers hoping to work with animals, it gave participants a sense of belonging." 
---
YWCA Off the Leash next cohort starts on April 25, 2022. For more information, visit ywcavan.org/off-the-leash or contact offtheleash@ywcavan.org | 604 605 4666. 
PRISM Employment Support Services
In partnership with QMUNITY, YWCA Metro Vancouver is supporting the launch of Prism, an Employment Support Service that will deliver employment skills training and support to queer, trans and Two-Spirit folks in BC. The service will connect individuals with jobs, and also provide employment coaching and support through the process of selecting, applying and interviewing for jobs. 
QMUNITY is a non-profit organization that works to improve queer, trans and Two-Spirit lives. They provide a safer space for LGBTQ2SAI+ people and their allies to fully self-express while feeling welcome and included.  
We are thrilled to partner with QMUNITY in this exciting initiative. To learn more, visit ywcavan.org/prism. 
This article is part of the 2022 Spring/Summer edition of our Contact Newsletter.